Mailsafe
Phishing, spam, ransomware, viruses, security starts in your mailbox.


Anti-spamming: the added value of our Mailsafe solution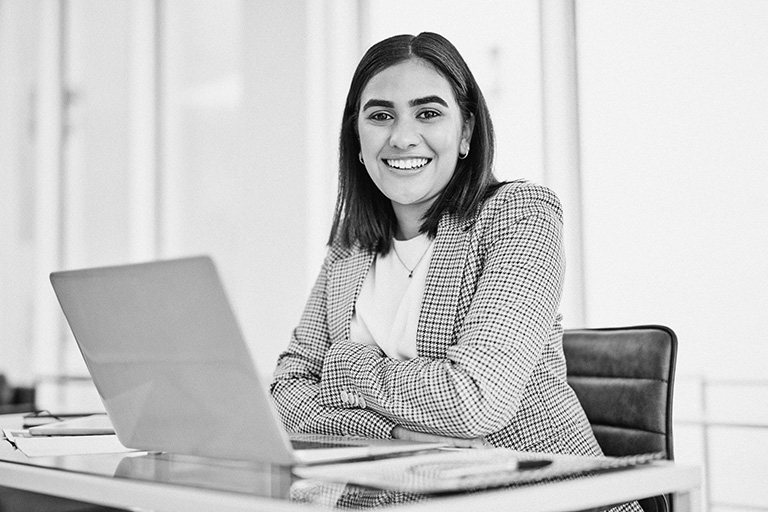 Spamming is a real problem, leading to a drop in employee productivity and a degradation of bandwidth, representing a high cost for companies. The figures speak for themselves: nearly 72% of all e-mails are spam!
To combat this global scourge (the majority of spam comes from outside Europe), French company Altospam has come up with an ingenious solution that combines performance and simplicity. It's called Mailsafe, and it's an outsourced online service that takes the hassle out of dealing with spam. This solution saves you from heavy and costly investments, since the fight against spam and other threats (phishing, spear phishing, ransomware, viruses…) is entrusted to professionals who guarantee the quality and availability of the service.
Mailsafe: our anti-phishing, anti-spear phishing, anti-ransomware, anti-spam and anti-virus solution
Altospam's Mailsafe is a comprehensive service for protecting professional e-mail systems, integrating several levels of security for your e-mails. Built around a comprehensive, high-performance French antispam, Mailsafe provides comprehensive e-mail security. Mailsafe blocks most unwanted e-mails, but above all our anti-spam & anti-phishing solution has been designed to keep false positives to a minimum.
Altospam's Mailsafe solution is an outsourced anti-spam and anti-virus filter that requires no installation, administration or maintenance, and therefore no human investment. In other words, your company benefits from email filtering techniques without any investment. Your e-mails are processed and analyzed in real time before final delivery to your mail server. Altospam also improves network performance and security by blocking spam and unwanted emails before they even reach your server.
Altospam also fights against lower staff productivity and considerably reduces the legal risks for your company's manager: using your mail server as a relay, obligation to protect employees against pornographic or offensive e-mails.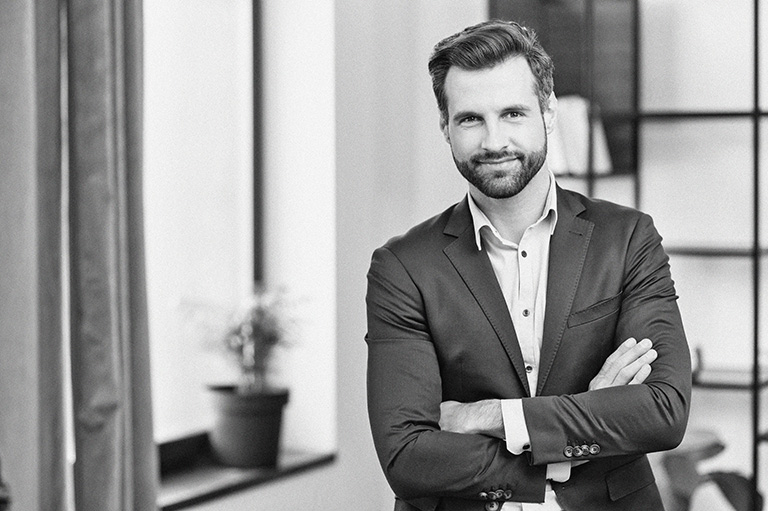 Mailsafe features
Anti spam
Altospam's Mailsafe is located upstream of your mail server. It processes and blocks unsolicited incoming e-mails before they reach your systems. All logs and reception information are accessible in real time via a dedicated interface.
En savoir +
Anti virus
Your e-mails are scanned by 6 antivirus programs plus a high-performance suspicious file detection system to block known and unknown viruses. Our virus databases and detection engines are updated several times an hour, incorporating the latest developments.
En savoir +
Anti phishing
Phishing is a counterfeit message presenting identity theft. It invites the recipient to reply or click on a link to provide information. The aim of this technique is to rob individuals of their login or bank details.
Anti Phishing
Anti spear phishing
Spear phishing is one of the most targeted and personalized of all email attacks. Spear phishing or BEC (Business Email Compromise) attacks are among the most costly attacks, based on the usurpation of the sender's identity. Our Mailsafe email security solution is designed to detect president scams (
FOVI
) and spear phishing emails.
Anti Spear Phishing / BEC
Anti-relay
Mailsafe from Altospam fights relaying to prevent your server being used by a third party to send illicit mail.
Bounce management
Bounces are handled in such a way that legitimate bounces (those corresponding to real distribution failures concerning you) are accepted and those originating from spam sent by spammers who have impersonated you are refused. ALTOSPAM's action on bounces can be configured to accept or reject them.
Denial of service (DDOS)
Your servers are no longer directly visible on the Internet, but are accessible via ALTOSPAM. Mailsafe includes specific rules to prevent denial-of-service attacks.
Anti advertising
Anti-advertising filtering is a free Mailsafe option for blocking the flow of advertising mails. Commercial email, unlike spam, is legal. Activating this option allows the administrator to block the reception of advertisements for some or all of his users.
How our anti-phishing, anti-spam, anti-ransomware solution works?
Altospam's Mailsafe is a real-time online anti-spam and anti-virus solution. This service is an outsourced gateway through which all your e-mails pass to be sorted, filtered and redirected to your servers, or refused in the event of identified e-mail or malware: phishing, spear phishing, ransomware, spam or viruses. Your mail server then receives mail as before, but without spam or viruses.
You have access to your administration console, from which you can check whether spam or viruses have been detected. You can view your reports, analysis logs and manage your black and white lists.
If your mail server is unavailable for some time, your e-mails are temporarily stored on our ALTOSPAM servers until service is restored.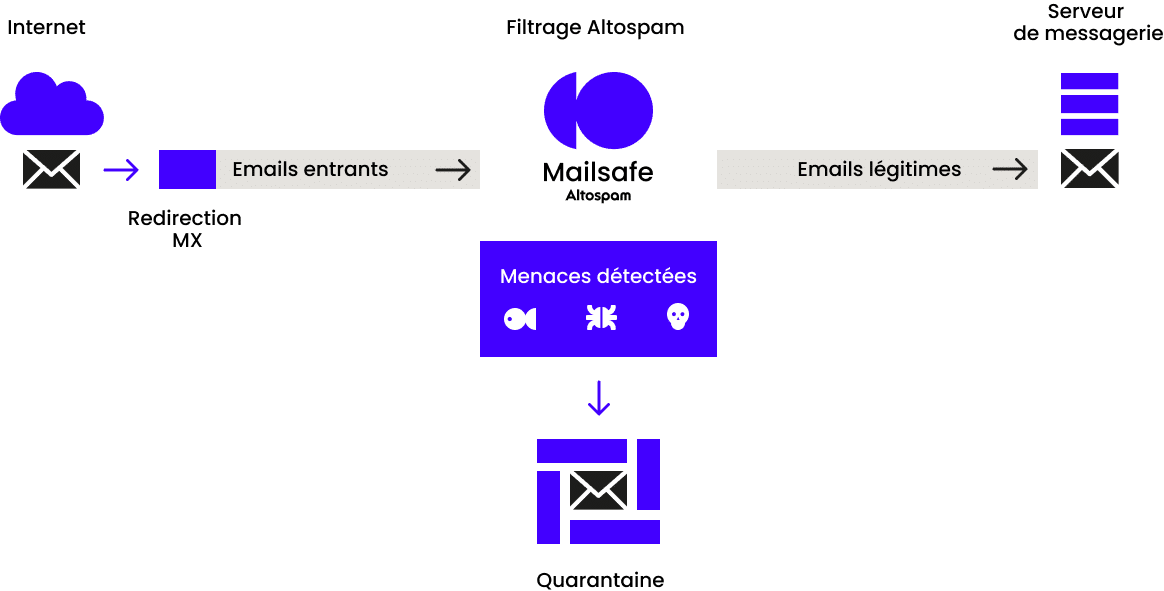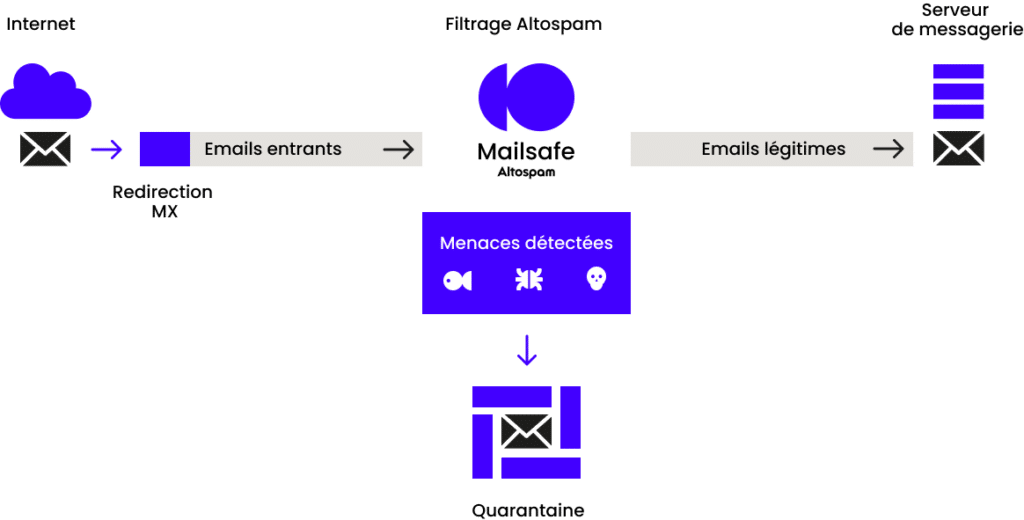 Altospam's Mailsafe combines 16 anti-spam technologies, 6 anti-viruses and other security services such as anti-replay, anti-scam, anti-phishing, anti-advertising and protection against denial-of-service attacks (Ddos). Anti-ransomware systems combined with advanced anti-spam rules guarantee a veritable fortress against all types of known and unknown malware. What's more, this e-mail security software ensures the highest possible availability of your e-mail.
Mailsafe's strength lies in its judicious combination of the very latest techniques for detecting spam and cyber-attack threats: RBL, heuristics, Bayesian method, spam databases, URLs, DNS registration, automatic Whitelist, as well as the very latest Greylisting and Teergrubing processes.
Unsolicited e-mails and attack threats are rejected before they even reach your mail server, so they don't clog up your network or your employees' mailboxes, resulting in a quantifiable improvement in network performance. What's more, this solution is synonymous with security, as it effectively combats phishing, spear phishing, ransomware, denial of service attacks, relaying and viruses.
Altospam's commitment to quality guarantees a low rate of false positives (legitimate messages considered as spam), which can be detrimental to your business.
Based on a standard protocol, Altospam's Mailsafe is compatible with your mail server. Our ASP (or SaaS) software is reasonably priced for both small businesses and international groups.
How Mailsafe anti-spam and anti-virus technology works
Heuristic analysis
Heuristic analysis is a set of rules represented as regular expressions. It searches for e-mails whose headers and/or bodies correspond to very specific characteristics known to have a high probability of being spam. ALTOSPAM uses a custom rules base to identify both American and French spam.
Blacklist | IP Reputation
RBL (Realtime Blackhole List) or DNSBL (Back List DNS) are lists of servers or networks known to assist, host, produce or retransmit spam, or provide a service that can be used as a medium for sending spam. Mailsafe uses the leading community and commercial RBLs on the market.
Collaborative spam databases
These spam signature databases are used in the same way as virus signature databases. They are fed by users of anti-spam solutions.
DNS records
Checks the correlation between the source server's IP address and its name via a reverse DNS query. Typically, dedicated mail servers have a fixed, bijective IP address with its associated domain name. This information can't always be used with shared messaging services, but is still worth including in the analysis.
Bayesian filters
Probabilistic filtering method learning e-mails based on the statistical distribution of keywords in e-mails. This type of algorithm adapts itself based on the analysis of known spam and non-spam emails.
White list
List of safe sites, hosts, domains or addresses. By default, very few hosts are considered safe, as their addresses could be spoofed by spammers. However, Altospam uses a self-learning whitelist system to speed up processing time for transmitters already tested and considered safe. What's more, Altospam lets you set up your own whitelist.
Transaction history
Previous transactions between the sender and receiver of a message influence the result of the analysis. People who are used to sending each other legitimate e-mails have no reason to send each other spam.
URL addresses
The purpose of analyzing the URLs in the message body is to identify and filter the e-mail according to the desired action: the user clicking on a promotional link. This analysis is based on the detection of suspicious sites and URLs (numeric, badly formatted).
SPF and DKIM
Anti-spam techniques known as SPF (
Sender Policy Framework
) and DKIM (
DomainKeys Identified Mail
) are designed to authenticate the sender of a message. SPF announces the mail servers authorized to send emails for a given domain. DKIM signs emails sent by mail servers to ensure their integrity.
Sender domain validation
To be considered legitimate to send e-mail, a domain must comply with a certain number of standards. We analyze the email sender's domain to validate that the sender is able to receive emails.
Image, HTML & Pdf analysis
HTML code embedded in messages, as well as certain PDF files, may contain dangerous javascript elements. Mailsafe examines the HTML code and PDF files contained in an e-mail to identify any dangerous code or abnormal behavior.
ALTOSPAM examines the images and PDF files contained in an e-mail on various bases: number, type, size, format and dimensions, then compares these criteria with the characteristics of the images used by spammers.
Teergrubing
A technique for significantly reducing the response speed of the server by maintaining the session.
SMTP, on certain connections considered suspicious. Teergrubing can be used to restrict the spam server.
Greylisting
The greylisting is an anti-spam technique that consists of temporarily rejecting a message, by sending a temporary refusal code to the sending server. The sending server resends the mail after a few minutes – most spam servers don't bother! (Cf.
Our article on Greylisting)
Turing test
This technique, also known as challenge/response, consists of sending an email requesting authentication to the sender.
authentication request to the sender
of the message (via the reproduction of a displayed code) to ensure its actual physical existence. Used on its own, this technology has a number of disadvantages (filtering work shifted to the message sender, systematic sending of often unsolicited messages, generation of false positives). When integrated with other technologies and used judiciously at the end of the analysis, it frees up the
false positives unresolved.
Office document control
VBA macros or scripts in Office documents are currently one of the main vectors of viral infection. Using sandboxing, Mailsafe monitors the activity of these scripts to establish their potential dangerousness, in order to identify and block dangerous attachments.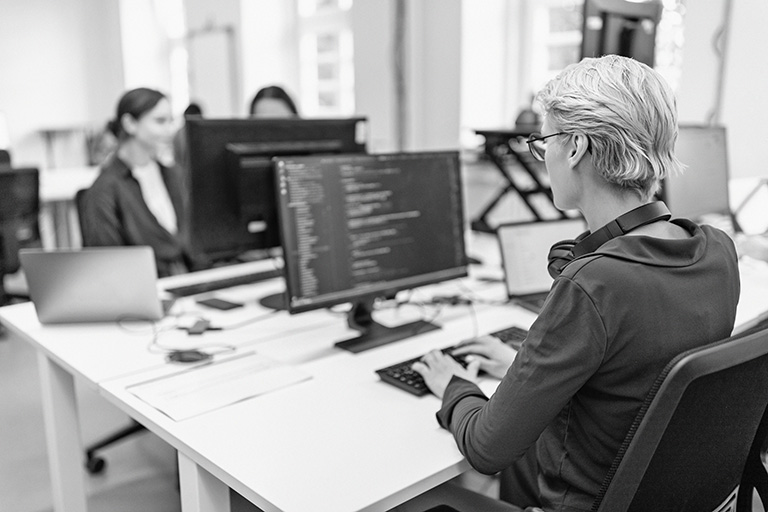 Quick commissioning. Immediate protection.
Mailsafe from Altospam requires no architectural modifications, no parameterization, and no downloading or installation of software on user workstations. Altospam Mailsafe integrates directly into your existing IT environment. A simple DNS entry modification is all that's needed to send e-mails to the ALTOSPAM servers, then route them after analysis to your mail server.
Altospam's Mailsafe is built on a redundant architecture, giving it very high availability and ensuring that your mail is always accessible. What's more, if your mail server is down for any length of time, your e-mails will be temporarily stored on our ALTOSPAM servers until service is restored.
Our technology combines analysis efficiency, performance and ease of administration.
SIMPLE
Installation and set-up in 5 min

Rapid deployment, turnkey solution

Automatic learning of e-mail addresses.

Real-time: immediate results.

No financial or human investment.

Stand-alone operation, with built-in updates.

Simple, comprehensive interface.

Detailed statistics and reports
SAFE
Protects your mail server from outside intruders

spam

the

virus

the

scams

the

phishing attacks

,

spear phishing

,

ransomware

,

denial of service

.

Sovereign solution: Not subject to the Patriot Act or the Cloud Act

RGPD compliant

Zero Trust: all emails are analyzed

Redundant servers located in France

Disaster recovery plan (DRP) 7 days

SLA: 99.99% guaranteed (100% availability since 2002)
EFFECTIVE
Detection rate: 99.5

False-positive rate: 0.01%.

Complete analysis of attachments & files, even compressed ones

Urls analysis

SPF, DKIM, DMARC analysis

Reduced network and server traffic

Possible ad blocking

Responsive French customer support 24/7
Mailsafe offers a disaster recovery solution
Companies are increasingly dependent on the Internet, and in particular on their e-mail systems. Messaging requires very high availability, as it has become an essential vector of communication for companies.
As we attach the utmost importance to listening to our customers' needs, we have developed backup solutions to come to their aid in the event of prolonged downtime. Altospam's Mailsafe offers free disaster recovery solutions.
These solutions, optimized to take account of the existing technical situation, are designed to enable our customers to continue working normally with their e-mail systems in the event of a disaster, or to limit the damage caused by an incident such as a server crash, datacenter unavailability or natural disaster.
Various solutions are then possible: access to pending emails via a user interface, rerouting emails to another mail server, or another solution established by an exchange between our technical services, which will suit your needs. As each situation is specific, an analysis will be made on a case-by-case basis to minimize the downtime of your email service and meet your needs as closely as possible.
The default email retention time is 7 days (168 hours), but this can be reset as often as required.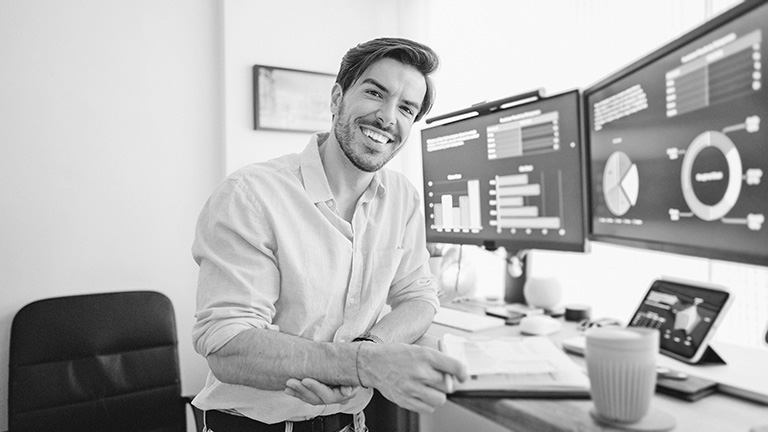 Mailsafe in figures
+ de 99,5%
Legitimate emails
96%
Of satisfied customers
- de 0,01%
False positives
Ready? Go. Deploy Mailsafe in 5 min.
01. Immediate commissioning
Simply change your domain's MX fields
02. Automatic learning
of all e-mail addresses to be protected on the domain
3. Instant protection
Access to reception and transmission logs and statistics in real time via the interface
A customizable administration interface with total control for the administrator
The SaaS Mailsafe interface can be accessed directly online. It enables you to view all the information concerning emails received on your domains (statistics, histogram of a domain, real-time logs, ranking, configuration, etc.).
Mailsafe is a complete solution that requires no configuration during installation. You can supervise your e-mail flow, manage security settings and user rights directly from your interface. You have both a detailed and synthetic view of attempted intrusions/attacks, as well as all valid, suspect or rejected e-mails and messages in real time.
As an administrator, you have control over all your structure's parameters. You have access to a secure interface that lets you release quarantined emails and manage white and black lists. You can also configure reports to keep you informed of suspicious activity. You can also configure automatic receipt of a summary of the previous day's messages.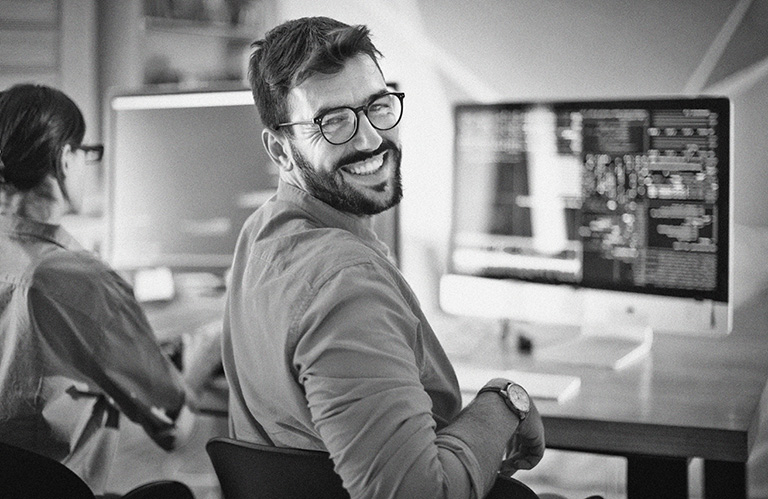 They protect their mailboxes with Mailsafe
MR LARRERE - ALPHA MOS
"I tested several anti-spam solutions and the best result on the market was recorded by Altospam, so I didn't hesitate to choose this solution. The two main advantages that Altospam offers my company are the outsourcing of the solution as well as its simplicity at all levels."
B. MASDOUA - TRANSPORTS DENJEAN
"For me, Altospam enables me to effectively combat mailbox overload by filtering spam. I wanted to entrust the maintenance of my antispam software to professionals, so I chose to outsource it with the Altospam solution, and I'm completely satisfied: you don't change a winning team!"
V. VIGIE - MIDI PYRENEES EXPANSION
"Altospam offers a quality service at an attractive cost to the company, and all this with perfect transparency. We don't have to manage anything, Altospam makes our lives easier and gives us real productivity gains."
D. GOUDIN - TOURINTER
"Following a free trial of the solution, I found Altospam to be the most effective in terms of spam and phishing filtering. What's more, it took less than an hour to set up. Altospam comes at an attractive price, and the support is very pleasant and efficient. Since we've been working with Altospam, we've received very little spam and we haven't had a single false positive! That's a real achievement.
M. DUHAMEL - IRFFE
"The Altospam solution means I don't have to spend time cleaning out my email inboxes. Altospam does a hell of a job sorting them out and saves me a lot of time.
P. ROUGER - SCIENCE-PO BORDEAUX
"The quality of spam filtering is very good, the quantity of false positives is very low, moreover, I would like to emphasize the good value for money of the solution."
M. LELONG - KHEPRI
"I chose Altospam because, in terms of anti-spam effectiveness, it's the best! The Altospam solution is really perfect, plus if I need any information, all I have to do is contact support and I'm efficiently informed!"
V. D. - Software publisher
"No negative comments to make about Altospam, only compliments: everything works very well, the software management is very well assured, perfect transparency of maintenance and use."
MR B. - Bank
"I'm 98% satisfied with the efficiency of the Altospam solution, not to say 100%! The big advantage of Altospam is the excellent filtering of all spam, which saves us a lot of time in our work. What's more, our company works with a satellite connection, and in the event of a failure of this connection, Altospam backs up our messages, which is a huge benefit for us!"
They already trust us to protect their emails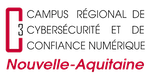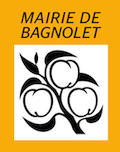 Why is it important to protect your mailbox with Altospam's Mailsafe?
Your most frequently asked questions about the Mailsafe Altospam solution
How long does it take to set up Mailsafe solution? Do I need to install software?

Mailsafe is put in place in only a few minutes after signature of the user contract and payment. However, as its implementation requires the modification of your DNS, a total set up time of 48 hours can be expected, bound to the refreshment of international DNS, to be certain that all mails transit via Altospam.

How much spam is actually blocked by Mailsafe?

The rate measured on our platform is currently around 98,7 %. You can consider, according to the exposure of your company to spams that Mailsafe will stop between 99% and 100% of spams. In addition, the Altospam company contractually commits on the quality of service (SLA) by guaranteeing a low rate of spams and false-positive, these legitimate messages interpreted as spams.

What exactly do you mean by false positives?

A false positive is a licit message interpreted by an antispam solution as being a spam. The rate of false-positive is the most important criterion to qualify an antispam solution. This is why Mailsafe was thought from its design so as to minimize at most the rate of false-positive.

Does Mailsafe increase the delivery time of legal e-mails?

As a general rule, messages arrive as quickly as usual. They transit by Mailsafe and are sent back at once on the server of your company. On the other hand, if the nature of a message is ambiguous, Mailsafe can generate a delay in the order of a quarter of an hour to half an hour due to the use of the advanced technique of Greylisting.

How can you be sure that an important email isn't blocked by mistake using Altospam's Mailsafe solution?

It's all about the difficulty of managing false positive. The antispam and antivirus ALTOSPAM software deals with this problem on three fronts:

by limiting to a maximum the rate of false positive,
by ensuring that, in the case of a false positive, the sender is intelligently informed that the e-mail did not reach its recipient
by allowing you to see the history of processed messages via the administration interface or via the daily log-synthesis notification to identify and re-send possible false positives.

What is the guaranteed availability of Mailsafe servers?

Any Mailsafe customer uses several Altospam servers to ensure high availability in case of a problem on one of the servers. Furthermore, Altospam servers are located on different geographical sites to anticipate any problems of internet connection or others. An availability guarantee (SLA) is also part of our customer contracts.

What happens if my mail server is down for several hours?

Mailsafe buffers your emails for 4 days. Your server can therefore remain unavailable for more than 96 hours without causing any problems. After this period, an error message is sent to senders.

Why use an ASP outsourced solution like Mailsafe? Can we install Altospam's Mailsafe on our company's mail server?

The interests are multiple: on one hand you do not saturate your Internet connection with illicit e-mails; on the other hand you don't have to worry about anything: indeed, there is no installation and update to be made. The solution Mailsafe is exclusively offered in ASP mode, it is not possible to install Mailsafe antispam servers within your company.

YES, the solution can only be set up for organizations with their own domain name.

How long is Altospam's Mailsafe service contract and can I opt out at any time?

By default, the duration of the contract is 1 year, renewed tacitly. However the contract may be stopped at any time by registered mail with a 15 days notice period.

Is my company's use of Altospam's Mailsafe solution transparent to my email correspondents?

The Mailsafe antispam and antivirus solution is completely transparent to the sender of messages directed to you. It is at the level of your DNS that Mailsafe servers are configured as being the e-mail servers of your company, which will then re-direct the licit e-mails towards your actual e-mail servers.

Altospam's Mailsafe is an outsourced solution, so where does my company's email go? How are the security and confidentiality of our e-mails guaranteed?

All Mailsafe servers are physically located in French data centres. The servers are highly secured so as to guarantee the integrity and confidentiality of your electronic communication. In addition confidentiality is guaranteed by the customer contract.

I use a mail server provided by an outsourced host. Can I still use Altospam?

Yes. You can benefit from the Mailsafe antispam and antivirus service whether your e-mail server is hosted by a third party, is using mutualized web hosting services or is located in your own building.

What message analysis techniques does Altospam Mailsafe use?

Mailsafe is based on an extremely sophisticated process of e-mail notation. This notation uses multiple techniques of analysis: RBL (black lists), heuristic analysis, Bayesian method, bases of spams, checking of the URL, DNS recording, . But the most important point is the action taken depending on the message notation: to accept, refuse temporarily (technique of Greylisting), reject permanently the e-mail, or to maintain a session (Teergrubing). These actions, in particular the technique of Greylisting, increase very significantly the results of analysis.

Greylisting consists in refusing temporarily a message. If the issuer is a real mail server (ie. specific to the SMTP RFC) it will necessarily be resent then accepted. If the issuer is a spammer it will rarely be forwarded. This is the reason why Mailsafe uses this technology when the nature of the message is ambiguous. In return this technique generates a latent period in the reception of emails. (Cf. article on greylisting).

Mailsafe being a French-developed solution what is the impact for international users?

The solution Mailsafe is multi-lingual and fully operational in English, French and Spanish. It integrates techniques of analysis to detect spams in English which represent more than 85 % of spams. It also detects French, Spanish and German spams that are not taken into account by the American/UK based solutions.

How much does Altospam's Mailsafe solution cost?

Our Mailsafe antispam and antivirus solution is inexpensive. It's targeting the small structures as well as the international groups. The price depends on the number of users and domain names. You can make an estimate based on the configuration of your company on the page price estimate.

Découvrez Mailout, notre solution de filtrage des e-mails sortants
Préservez votre délivrabilité et votre image.